So, what is Cloud Computing? It refers to the on-demand provision of resources such as CPU, memory, and space. Simply put it, you will get access to a virtual datacenter environment, slice it any way you like it! As a client, you will be able to create, delete, modify, clone, and shuffle your virtual machines any way you like it. This is done through what's called vCloud Director (vCD).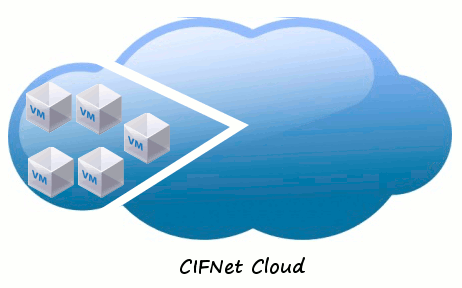 Let's work through a quick example. The following resources are provisioned to you:
X cPU
32GB of RAM
3TB of storage space
/27 of IPv4 space
Get a slice of CIFNet Cloud! With vCD you may provision these resources any way you like it. You're in full control of your resources!
You may choose to provision these into different types of machines, such as:
1 x Windows machine for Oracle database
3 x Linux machines running web daemons to serve content
2 x FreeBSD storage machines
Or you may choose to partition it differently! This is totally up to you!
You and your admin staff will have full console access. You can stop one machine and replace it with another with the same IP address. May choose to clone an existing live machine to test new software or to patch a bug. Should it fail, it won't impact your production environment. However, if successful, you can deploy new patched machine immediately!
A
: It isn't. With our basic offering you control a single machine, or a set of individual machines. If you require flexibility to customize the resources, then our Cloud offering is for you.
A: If you have or plan to have two or more machines, it would certainly make sense to switch from our basic VPS offering onto actual Cloud with vCD interface.
Q: Do I get all the same features such as weekly backups as your basic offering?
A
: You get all the perks as our basic VPS solution: fully redundant infrastructre, fast distributed SAN storage, network diversity and so on. On top of that full access to vCD to provision your resources.